Another new segment for you on the arrowheads abroad website. This time we take a look a what went on around the NFL in week 1, with a round-up of all the big news and events. So without further ado, lets dive right in with…
Game of the Week
Cleveland Browns

21 – 21 Pittsburgh Steelers
In all honesty the standard of football on display wasn't the greatest, but due to the late drama and overtime madness, it just edges out my honorable mention for game of the week. The game itself looked dead after the Steelers had taken a 14-point lead, but a short touchdown run after a James Connor fumble gave the Browns a way back into the game, before a late Tyrod Taylor touchdown pass to Josh Gordon completed the comeback and tied the game.
The Browns even had a chance to win the game right at the end of the fourth quarter, but in typical Browns fashion, a Taylor interception killed off any hopes of that as the game went into overtime. In the overtime period, both teams looked to be trying their hardest not to win the game as they both missed game-winning field goal attempts in a breathless finish.
The Browns will obviously be disappointed to not end their winless streak, but on the bright side, they are off to their best start since 2004!
Honorable Mention
Green Bay Packers

24
–
23

Chicago Bears
Things were going oh-so well for formers Chiefs OC Matt Nagy in his head coaching debut for Chicago. Up 20-0 early in the third quarter after a dazzling opening drive and a defensive touchdown from recently acquired defensive star Khalil Mack.
But Rodgers was not to be denied. After seemingly being knocked out of the game, he returned to lead the Packers to a stunning fourth quarter comeback, handing Matt Nagy defeat in his head coaching debut, in a game that eerily echoed Andy Reid's first game as a head coach.
Upset of the Week
Tampa Bay Buccaneers 48 –

40

New Orleans Saints
In one of the highest scoring games in opening weekend history, Ryan "Fitzmagic" was out in full force, throwing for over 400 yards and 4 TDs (as well as running one in himself), as the Buccaneers stunned the Saints on the road. Drew Brees was just as spectacular on opposite side, but to no avail, as the Saints defense reverted to its 2016 form.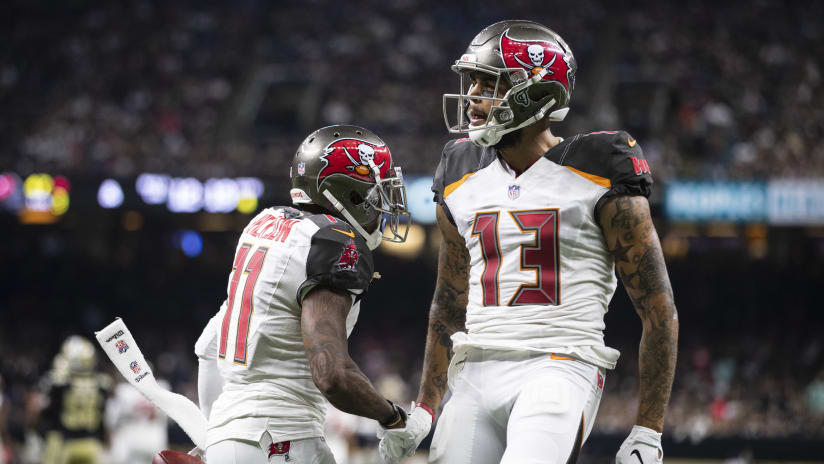 Performance of the Week
Well he already got a mention above, but performance of the week has to go to Buccaneers' QB Ryan Fitzpatrick.
Only starting due to a suspension to starter Jameis Winston, Fitzpatrick tore a solid New Orleans Saints defense apart, going 21 of 28 for 417 yards and 4 TDs (plus one rushing TD). Fitzpatrick has always been capable of the odd spectacular game, but I don't think many were expecting to see a performance quite like this!
Teams Trending Up
Baltimore Ravens – I think most people expected them to win this game, but the manner in which they dismantled the Bills on opening weekend will surely have people sit up and take note. Their defense looks in midseason form already.
New York Jets – Things could not have gone much better for the Jets in rookie QB Sam Darnold's first start. They scored 48 points on the road, including a whopping 31 points in the third quarter, in a result that gives Jets fans hope that their turnaround may happen sooner rather than later.
Washington Redskins – While not as impressive a scoreline as the other two teams in this section at first glance, their win on the road in Arizona was just as dominating. Alex Smith looked like the best version of Alex Smith, efficiently marching the Redskins offense down the field.
Teams Trending Down
Buffalo Bills and Detroit Lions – The two teams on the end of embarrassing scorelines, they really looked completely out of sorts at the weekend. For the Bills, it's a question of whether Josh Allen is really ready to be an NFL starting QB this soon, while for the Lions, even though Stafford looked bad, it might just be a simple case of figuring out some new hand signals if the comments of some of the New York Jets defenders are to be believed.
Tennessee Titans – Losing your opening game is bad enough, but to lose your starting QB, LT and TE all in one game is really not the ideal start to an NFL season. With TE Delanie Walker already confirmed to be out for the season, they'll be hoping the other injuries are not too serious as they look to bounce back this weekend against the Texans.
Power Rankings
1. Philadelphia Eagles
2. Minnesota Vikings
3. New England Patriots
4. Los Angeles Rams
5. Jacksonville Jaguars
6. Green Bay Packers
7. Kansas City Chiefs
8. Baltimore Ravens
9. Carolina Panthers
10. Atlanta Falcons
11. Pittsburgh Steelers
12. New Orleans Saints
13. Los Angeles Chargers
14. Washington Redskins
15. Houston Texans
16. Denver Broncos
17. San Francisco 49ers
18. Chicago Bears
19. New York Jets
20. Cincinnati Bengals
21. Seattle Seahawks
22. Tampa Bay Buccaneers
23. Miami Dolphins
24. Dallas Cowboys
25. Cleveland Browns
26.  New York Giants
27. Indianapolis Colts
28. Tennessee Titans
29. Arizona Cardinals
30. Detroit Lions
31. Oakland Raiders
32. Buffalo Bills