As you all know Alex Smith was traded to the Redskins this past offseason to make way for the new era of Chiefs' football, Patrick Mahomes. The second year quarterback has absolutely lit up the league in the first half of the season. Let's take a look back to see if we're better off now with our new number 1 guy.
The short answer is yes. We are a much better position now with Mahomes than we were with Smith. Despite the consistently good play from number 11 last season, there's just something about the new face on the block that has given all Chiefs fans a hopefully future.
Just looking at this season alone tells enough of the tale. Patrick Mahomes has a 25/5 TD/INT ratio with a 65.6% completion percentage whilst Smith is sitting on less favourable 8/2 ratio and 63.2%. Now you could make the argument that it's largely down to the supporting cast Mahomes has; so let's explore that further.

Alex Smith in the huddle with his new team: the Washington Redskins.
The only main difference between the Chiefs' offence in the last two seasons, other than at Quarterback, has been the addition of Sammy Watkins. So the two guys, in the last two years, have largely had the same team to run. Let's have a look at the stats:
| | | | | | |
| --- | --- | --- | --- | --- | --- |
| | Passing Yards | Completion % | Touchdowns | Interceptions | Team Record |
| Patrick Mahomes by week 8 | 2,526 | 65.5 | 26 | 6 | 7-1 |
| Projected Patrick Mahomes | 5,052 | 65.5 | 52 | 12 | N/A |
| 2017 Alex Smith by week 8 | 2,181 | 69.1 | 16 | 0 | 6-2 |
| 2017 Alex Smith | 4,042 | 67.5 | 26 | 5 | 10-6 |
So just how much better has Mahomes been that Smith so far in the 2017 season? Well in terms of getting yards and points on the board Mahomes is definitely the better of the two. With over 340 more passing yards compared to 2017 Smith at the same point of the season; as well as having the same amount of TDs in this time than Smith had all season last year. 26 has also been Smith's career highest number of touchdowns in a single season; Mahomes has almost broken that in only half the time Smith had.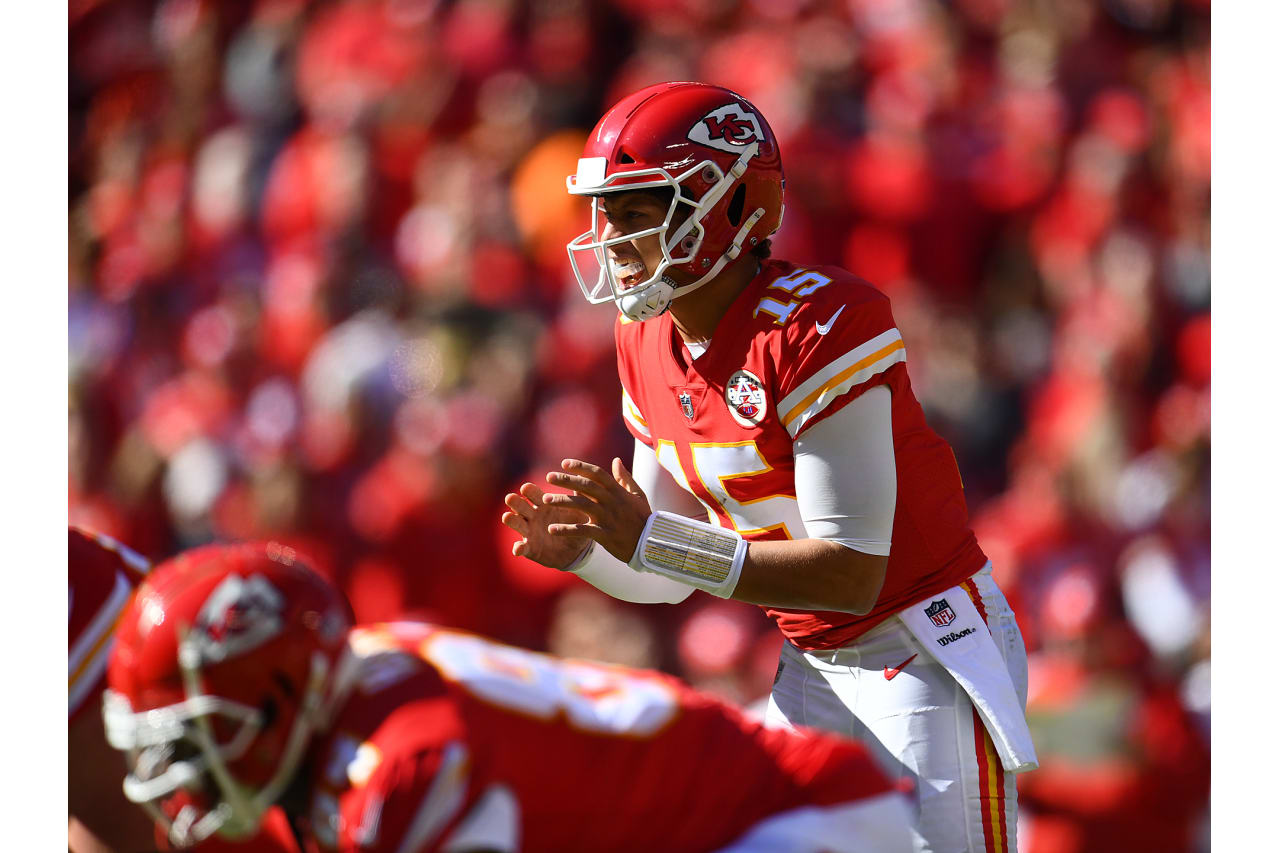 Mahomes ready to receive the snap in his most recent game against the Broncos
However, Smith is clearly the more conservative QB, but these results are expected. With the higher completion percentage than Mahomes by 3.6% across at weeks (exactly 2% when comparing 2017 Smith's whole season and 2018 Mahomes' projected stats for the year). As well as this number 11 didn't have any interceptions by week 9 last year, whilst Mahomes has 6.
But are we complaining? Lord no. Mahomes is the future of this team. He's led us to a very comfortable 7-1 record, one of the best records in the league right now, and is just a stud in every asset of his game. His progress has been exceptional and I believe he's only just getting started. Therefore, despite the more recklessness nature of Mahomes' play compared to our old guy this time last year, I'm still happy with who we've got now. The sky's the limit for Patty Cakes and his insane supporting cast.