All (some of) the things you need to know about the Chiefs in one handy alphabetical list.
Arrowhead Stadium. The home of the Chiefs. Nuff said.
BBQ. Perhaps the finest cuisine in the world and no one does it better than Kansas City. Yes, we're looking at you Texas. (See also Brisket & Burnt Ends.)
Charles, Jamaal. One of the greatest running backs the NFL has ever seen JC still holds the record for the highest YPC of any running back ever. A threat in the passing game as well as out the back field for too long Jamaal represented almost the entire Kansas City offensive threat, we can only imagine what his career stats might have been had injuries dealt his knees one too many cruel blows. Speaking of cruel blows remember that time he scored 5 TDs at the Raiders and stood arms out in front of the Black Hole? Go on, Google it, just for fun. Should he be in Canton? Hell yes.
Dawson, Len. Chiefs & NFL Hall Of Fame QB. Super Bowl Winner. Super Bowl MVP. The man in the coolest sporting photograph ever. Lenny the Cool was the Chiefs first ever quarterback and led them to the first ever Super Bowl. That one ended in disappointment however Dawson & the Chiefs would triumph over the Vikings in SBIV under coach Hank Stram (see below). Dawson led the Chiefs for 13 seasons and still holds too many franchise records to list here. He finally retired in 1975 and it took 40 years for a certain Patrick Mahomes to come along before anyone even got close to matching his achievements, that's how good Len Dawson was.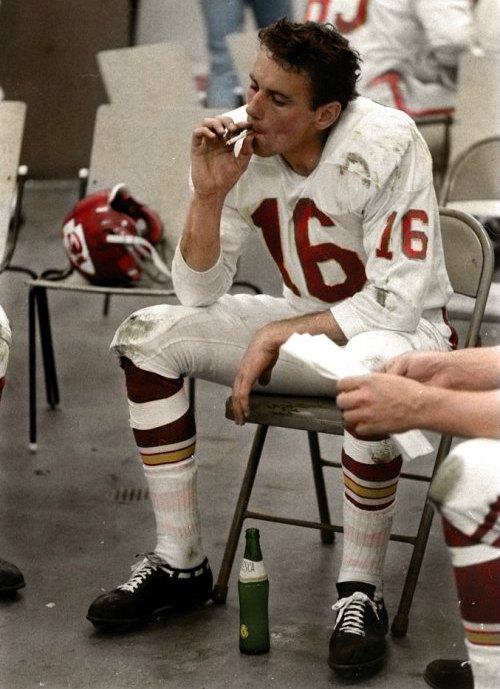 Expectations. They say it's the hope that kills, well maybe hope wields the knife but expectation deals the fatal blow. Chiefs fans are in a golden age with Patrick Mahomes as QB1 but with that comes a belief that we're Super Bowl bound every year. Generations came and went without that feeling, we need to enjoy it while it lasts.
Friday, Red. Every Friday during the season Chiefs fans don their finest red apparel and represent the team loud and proud!
Gold Endzones. Let's have them every week please Chiefs.
Hunt, Lamar. Without this man the Chiefs simply don't exist. In 1963 he moved the Dallas Texans north to Kansas City and was instrumental in the league merger and the creation of the 'Super Bowl' (a term he is believed to have invented). A sporting visionary, he was instrumental in the development of soccer and tennis in the US as well as football. The Chiefs jersey bears a patch in homage to him, the AFC Championship trophy still bears his name, you cannot understate his contribution. The sight of his son (& current Chiefs owner Clark Hunt) and wife Norma lifting the trophy en route to SBLIV victory will live long in the memory.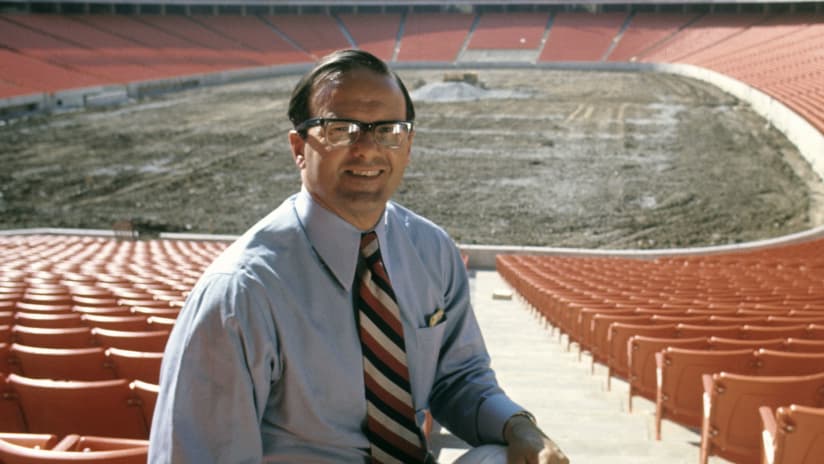 International Fans. No UK fan run account (of any team) has more followers than Arrowheads Abroad. Kansas City may not be the biggest market in the NFL but Chiefs Kingdom reaches far and wide., just check our international shout outs any game day for proof! We're so proud to represent Chiefs fans from all over the world.
Jet Chip Wasp. The play that righted the course of Super Bowl LIV just when it felt like things were slipping away. "Do we have time to run Wasp?" If in doubt, ALWAYS run Wasp.
Kelce, Travis. No tight end in history has had 5 1,000 seasons, Travis Kelce has 5 consecutive 1,000 yard season. Patrick Mahomes go-to target continues to get better and better, he has re-set the bar at the tight end position across the league.
Left Handed Pass. Just one of the myriad tricks Patrick Mahomes has up his sleeve. Some say he's a magician, others call him Showtime, we call him QB1. Just don't call him Pat!
Mahomes, Patrick. Ten teams passed on drafting this man. We are eternally grateful to them all. Patrick Mahomes has revolutionised this franchise, taking them from an good team struggling to get over the hump to a great one that has played in 3 consecutive home AFC Championship games, 2 Super Bowl appearances and won 1 title. It's hard to put into words the effect this man has had, on and off the field, in Kansas City so we won't even try. At 25 years old he's probably already the greatest player the Chiefs have ever had. if he stays healthy he could easily become the best player anyone has ever had.
Noise. Arrowhead Stadium is officially the loudest in the world, no one makes more noise than Chiefs fans.
Oakland Raiders. Yes, we're being a bit cheeky here but we had to include our biggest rivals in this list. No one celebrates week 5 victories the way Jon Gruden's Raiders do. someone should give that man a 10 year contract……..
Playoffs. Specifically Play Off Agony. After winning their first Super Bowl in 1969 it would be 23 years before they even won another Play Off game. Then a further 18 more after Joe Montana retired in 1993 until we'd win again. Games with no TDs, blown leads, missed kicks, forward progress, offsides, you name it, the Chiefs have probably found a way to lose a Play Off game because of it. We include this not to open old wounds but to appreciate where you are you have to appreciate where you've been.
Queues. Us Brits love a queue but even we marvel at the lines to get into the Arrowhead car park to tailgate. Is 4am too early to get up and start grilling? Not in KC it's not. NO ONE tailgates like Chiefs fans.
Reid, Andy. First on a couple of back to back coaches on our list is Andy (Big Red) Reid. Since arriving in 2013 the Chiefs have never posted a losing record. An offensive genius, the combination of Andy's creativity and Patrick Mahomes' playmaking has defences across the league running scared. His play book is almost as deep as his collection of Hawaiian shirts.
Stram, Hank. The first Chiefs coach to win a Super Bowl and another NFL Hall Of Famer. Stram was a legendary motivator who's one liners have become part of Chiefs folklore : "just keep matriculating the ball down the field". He coached the team for 14 years before moving on to the commentary booth.
Thomas, Derrick. DT is one of the most popular Chiefs ever. He still holds the franchise record with 126.5 sacks. A leader and legend taken far too soon.
Uniforms. The Chiefs are synonymous with their classic red white and gold uniforms.
Voice of the Chiefs, Mitch Holtus. TOUCHDOWN KAAAAAANSAAAAAAS CIIIIIIIITY : Mitch is the best in business bar none.
West, AFC. The Chiefs currently own the West. We're currently on a 5 consecutive win streak, one more would set the record. The Chargers may be perennial champs in May, the Raiders might even win week 5 but the most important name is the one on top in January.
X : Players crossed from history. Otherwise known as The Kicker Who Shall Not Be Named. See also Play Off Agony above.
YOU. Chiefs Kingdom. THE best fans in sport.
Zoom, Legion Of. Led by The Cheetah, Tyreek Hill, the fastest offence in football was unstoppable as the Chiefs won Super Bowl LIV. Others may lay claim to the crown of the fastest player in the league, no has yet been able to catch up to Hill to actually take it though.